Workshop on Randomness and Enumeration
Date: November 24-28, 2008
Location: La Suiza Andina, Curacautín, Chile.
Organizers: Marcos Kiwi, Martin Loebl
History of the Meeting
This meeting is expected to be second version of the Patejdlovka Enumeration Workshop held November 2006. We hope we can repeat the atmosphere and successful experience of the first workshop, this time in the mild Andes' end of spring sunshine.
Location
The workshop will take place at La Suiza Andina, a small mountain lodge with about 10 cozy rooms managed by a Swis immigrant family. The lodge rooms are distributed in a couple of separate buildings and isolated from neighbors. The lodge is located in a mountain valley in what is called the Araucanía Andina region. It is surrounded by 3 volcanoes (Tolhuaca, Lonquimay and Llaima) and 2 close by national parks (Conguíllio and Tolhuaca) and 3 national reserves (Malleco, Malalcahuello and Nalcas), and a mere 3 Kms from the luxurious Malalcahuello thermal baths.
Given La Suiza Andina's isolated location, there is no Internet available. We plan to have two vans available for people to move around, plan some excursions, etc. The lodge's restaurant is very nice (hopefully the cook has not changed since Marcos last visited!), and we plan to have at least one of the daily meals there.
The closest "city" (approximately 20.000 inhabitants) is 28 Kms away from La Suiza Andina, and is called Curacautín (38ˆ 26' 0" S, 71ˆ 53' 0" W), which is 659 Kms from Santiago.
Participants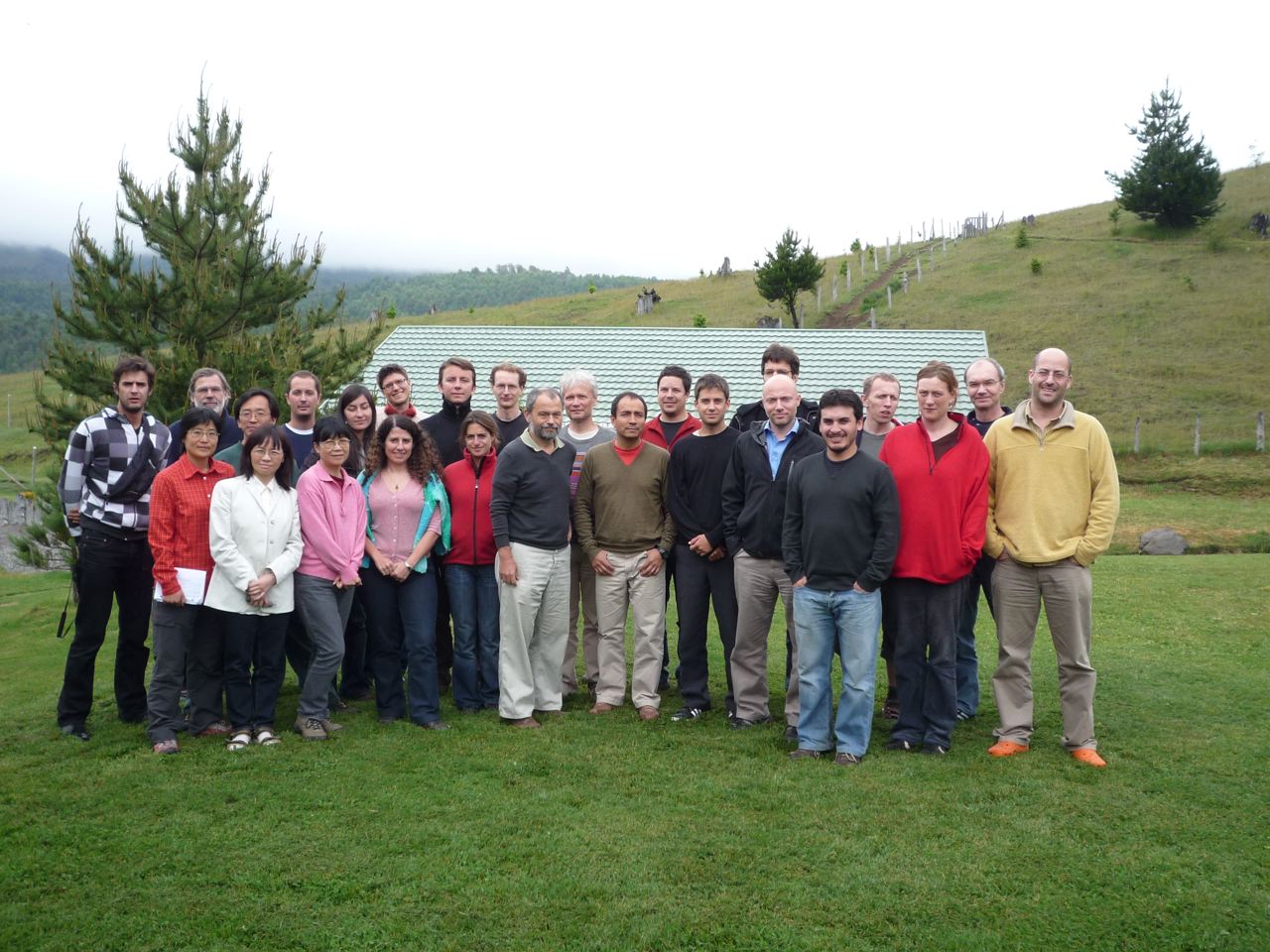 Olivier Bernardi, Universite Paris-Sud, France
Cristina Fernandes, U. São Paulo, Brazil
Flavio Guíñez, U. Chile, Chile
Carlos Hoppen, U. São Paulo, Brazil
Roberto Imbuzeiro, IMPA, Brazil
Andrea Jiménez, U. Chile, Chile
Mihyun Kang, Humboldt U. at Berlin, Germany
Yoshiharu Kohayakawa, U. São Paulo, Brazil
Roman Kotecky, Warwick Mathematics Institute, UK
Emmanuelle Lebhar, CNRS - U. Paris VII, France
Martin Matamala, U. Chile
Eduardo Moreno, U. Adolfo Ibáñez, Chile
Pavel Pudlak, Academy of Sciences, Czech Republic
Ivan Rapaport, U. Chile, Chile
Vojtech Rodl, Emory U., USA
Mathias Schacht, Humboldt U. at Berlin, Germany
Petr Somberg, Charles U., Czech Republic
Maya Stein, U. São Paulo, Brazil
Karol Suchan, U. Adolfo Ibáñez, Chile
Hong Van Le, Academy of Sciences, Czech Republic
Yoshiko Wakabayashi, U. Sáo Paulo, Brazil
Jose Zamora, U. Chile, Chile
Program
Talks:
Schedule:
Monday
Tuesday
Wednesday
Thursday
Friday
08:00-08:45am
B R E A K F A S T
08:00-08:45am
08:45-10:15am
Schacht
Bernardi
Pudlak
Bernardi
Pudlak
08:45-10:15am
10:30-12:00am
E X C 11
E X C 22
F R E E
E X C 33
Imbuzeiro
10:30-12:00am
12:00-01:30pm
L U N C H
12:00-01:30pm
01:30-03:00pm
F R E E
01:30-03:00pm
03:00-04:30pm
03:00-04:30pm
04:30-18:00pm
F R E E
F R E E
04:30-18:00pm
06:00-07:30pm
Kang*
Kotecky
Schacht
Lebhar
06:00-07:30pm
07:30-09:00pm
D I N N E R
07:30-09:00pm
* Distinguished lecture.

1 Excursion 1: Ascension to nearby Navidad crater of Lonquimay volcano. The crater emerged on the eruption of the Lonquimay volcano during Christmas of 1988. The excursion will take 3 to 5 hours. Lunch box will be provided and two guides will accompany the group. The hike will be under the sun and through dry lava fields. (See related pictures).

2 Excursion 2: There will be two options: (a) Spend the day at the nearby Malalcahuello thermal baths and spa (entrance not included), or (b) Do go trekking in the nearby Malalcahuello National Reserve. (See related pictures)

3 Excursion 3: A 6 km trek in Conguillio National Park through coigue-araucaria and lenga woods and the Captrén lagoon. Lunch box will be provided and two guides will accompany the group. The trip to the Park will take around 1.5 hours. (See related pictures)
Getting there and Away
By airplane to Temuco

There are flights from all the major cities in Chile to the national Maquehue Airport in Temuco offered from Lan Chile or Sky Air. The flight from Santiago takes 50 minutes and costs approximately $120 US depending on the season and the deal offered. If you sit on the left side of the plane you can enjoy the extraordinary view over the Andes! In addition there is a $10 US fee for the 5 km trip to Temuco by minibus.

If requested the Suizandina owners can organise your trip from the airport directly to the lodge. A minibus for up to 10 people is available even upon short-term notice. The cost per trip is approximately $120 US.

By car to Malalcahuello

The fastest way to reach us by car is via the Panamericana.

When travelling from the north, take the Curacautín/Lonquimay exit in Victoria (about 600 km from Santiago de Chile). Victorias roads are a bit confusing. If lucky you will spot the road signs signalling the way to Curacautín. Otherwise its best to ask people to point you in the right direction. Enjoy your ride across the so-called granary Chiles!
Essential Useful Information
Exchange rate: US$1.00 = Ch$676 [October 01, 2008]
Electricity: 220V, 50Hz
Weather forecast: Not yet available
For more detailed tourist information see next section.
Tourist Information
Where to Stay in Santiago?
For help making a reservation you can contact Gladys Cavallone at gladys followed by @ followed by dim.uchile.cl. Please send a copy of your email to one of the organizers.
Avda. Suecia 281, Providencia
Standard: US$65.00 - Cable TV, frigobar, Internet, desk, safe.
Junior Suite: US$80.00 - King size bed, cable TV, frigobar, Internet, desk, safe, air condition, hydromassage bathtub.
Includes buffet breakfast
Contact: Yanet Canales - 231-1400

Guardia Vieja 285, Providencia
Standard: US$115.00 (single), US$125.00 (double)
Junior Suite: US$135.00 (single), US$145.00 (double)
Includes buffet breakfast

Avda. Condell 40, Providencia

Parque Bustamente, Providencia
Note: Transfer from the airport is included in the price if you stay long enough (5 to 7 days).
If you are looking for a high end hotel we suggest Sheraton or Hyatt.
Sponsors