Optimisation Énergétique
Programme régional STIC-Amsud (Recherche – Innovation)
Finalité du projet
Ce projet vise à consolider la formation d'une équipe internationale de recherche et développement de haut niveau, specialisée dans la modélisation et la résolution des problèmes issus du secteur de l'énergie. Dans le moyen terme, cette action aboutirait en la création d'un Institut Virtuel de l'Energie, avec des composantes vouées à la formation et à la recherche.
Présentation de chaque organisme et du responsable de projet (CV 2 pages maximum).
The centre for Mathematical Modelling (CMM) during the first stage of the FONDAP Grant for Mathematical Modelling (April, 2000-March, 2005). This grant has funded the scientific activity of 26 researchers: 20 CMM associate researchers at U. de Chile and 6 researchers at U. de Concepción. The CMM is part of the Universidad de Chile's Physical and Mathematical Sciences Faculty, which houses Chile's oldest and most prestigious engineering school. It was created in April, 2000 in order to foster and manage the scientific activities of the FONDAP Grant for Mathematical Modelling, which was awarded by the National Commission for Scientific and Technological Research, CONICYT. From its creation, the relationship between CMM and the Department of Mathematical Engineering (DIM) of Universidad de Chile, is a particularly close one since most of its associate researchers hold professorships in DIM. But our researchers have also strong scientific links with other departments, in disciplines including Industrial Engineering, Mechanical Engineering, Transportation, Electrical Engineering, Computer Science, Physics, Biotechnology and Earth Science. From its inception CMM has been associated with France's National Center for Scientific Research (CNRS) as a Mixed Research Unit (UMR 2071). This relationship with the most important and prestigious scientific research center in Europe has placed the CMM on international footing and in an outstanding position to broaden its scope. As a result of this affiliation 10 French researchers have completed a one-year stay at CMM. The scientific importance of the CMM for the CNRS has been outlined in a very eloquent way by the Directeur Adjoint of CNRS for Mathematics and Physics, in Lettres du SPM Nº 42, December 2003.
CMM's identity is based upon the scientific interaction of its members and their shared view of the central role of mathematics in scientific and industrial problems.

CMM shelters an internationally recognized group of mathematicians devoted to the study of the following areas in Applied Mathematics: Differential Equations, Discrete Mathematics, Mathematical Mechanics, Optimization and Equilibrium, and Stochastic Modeling. At the same time, the area of Numerical Analysis is developed by the high quality associated group at Universidad de Concepción.
Our fundamental research aims to create new knowledge in a wide sense and emphasizing its international standards. The latter is reflected by our network of collaborators, which includes a large number of researchers from all over the world, mainly from France and the United States. Leading researchers from each area visit CMM on a regular basis and we have attracted a number of postdoctoral fellows, most of whom have come from abroad in order to spend one year or more at CMM. Another key feature of our work is that FONDAP researchers are highly mobile. All of our associate researchers spend at least one month per year abroad as invited speakers at prestigious international conferences or as visiting researchers at world-class research centers.
Our research and activities have attracted an increasing number of Ph.D. students in Mathematical Modelling at the Universidad de Chile. Our program has nearly doubled the number of graduate students during the last five years, reaching to approximately 35 adscribed in 2005. During the period in question, about one third of students entering the program are coming from foreign countries, deepening the international character of our activities. During this period, more than 15 theses have been completed under the supervision of CMM associate researchers, and FONDAP researchers from Universidad de Concepción have supervised an additional 7 in their Ph.D. program in Applied Mathematics. Due to its impact on our main research,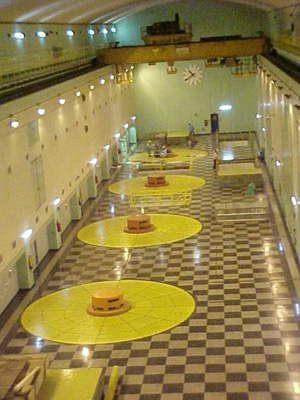 it is important to mention that CMM associate researchers have also guided over 40 mathematical engineering or master theses, many of which led to publications in international journals.
During the initial 5-year period of the CMM, the fundamental research conducted by our associate researchers, in collaboration with invited researchers, postdoctoral fellows and Ph.D. students, has produced nearly 340 papers which have been published in a wide range of international journals, most of them among the best in each area. In terms of per capita publications, we have achieved an average of over 2.0 papers per year which is very high according to international standards (Science and Engineering Indicators Report, NSF).
CMM holds a weekly seminar on each of its fundamental research areas. These events offer researchers, students and invited speakers the opportunity to discuss new results and ideas in both fundamental and applied research. Leading researchers from each area are frequently invited to take part in these seminars. We have also organized approximately 20 international schools and meetings (conferences, workshops, etc), which has proved to be a successful approach to disseminating and increasing the impact of our research, particularly in Latin America.
APPLIED RESEARCH
The applied research developed by the CMM team during the first five years of this program has been focused on fourteen different projects involving industrial and service problems from a wide range of sectors, including mining, forestry, energy, telecommunications, transportation, information technology and education.
The applied projects involve all CMM associate researchers, engineers from fields such as Forestry, Electrical Engineering, Computer Science, Mechanical Engineering, Chemistry and Transportation, as well as biologists, economists, geophysicists and others. The multidisciplinary dimension of our work has two components. The first is a high level of interaction between mathematicians, engineers and scientists from various fields; the second involves approaches to modelling from various areas of applied mathematics. This multidisciplinary activity has created a "savoir faire" in CMM that has been key in empowering its applied and fundamental research capabilities.
The industrial problems that we have addressed have required a complex modelling process in which our interaction with engineers and other scientists has been crucial. The mathematical analysis of these models has led in some cases to the development of new mathematical tools, as described in some of our publications. We have also developed new strategies in order to address a variety of problems using numerical procedures or algorithms to compute solutions or to simulate the behavior of industrial models.
Each applied project begins with the identification of an open problem that is challenging from the mathematical modelling point of view. In each case, the projects have been developed in response to requests from strategic national industrial sectors. Our success in modelling, analyzing and solving the first problems that we were asked to work on has led to an overwhelming flood of requests to address new projects. It is important to point out that we have strict criteria for selecting applied projects, the most relevant of which are: projects that will allow us to generate original research that leads to publications, new software or patents; projects that represent a mathematical modelling challenge; and projects that represent an opportunity to contribute to the training of new researchers and/or engineers and to have an economic or social impact in the sector. We expect our interaction with all of these sectors to allow us to increase the use of the mathematical modeling by the private and public decision makers. We believe that research in education is an important part of applied projects and are committed to meeting the challenge of developing new tools designed to improve the national education system.
These applied research and education activities jointly with our outreach initiatives have allowed us to improve the appraisal that is placed on science and mathematics in the society.
One illustrative indicator of our impact in the local and international industrial and scientific sectors is the importance of the institutions that collaborate with us on applied projects. These include Codelco (Chuquicamata and El Teniente Division), Instituto de Innovación en Minería y Metalurgia (IM2), Alstom (Chile and France), Nippon Mining & Metals, NCR, LAN Chile, PRAXIM (France), Minera Escondida, BioSigma S.A., Ferrocarril Antofagasta-La Paz, General Electric, Comisión Nacional de Energía, ENERSIS, Ministerio de Transporte y Telecomunicaciones, Subsecretaria de Telecomunicaciones (SUBTEL), Instituto de Nutrición y Tecnología en Alimentos (INTA), Instituto de Neurocirugía (INCA), Ministerio de Educación, Corporación Nacional Forestal, Fundación Chile, Dirección Meteorológica de Chile, Comisión Nacional de Energía Atómica (Argentina), GENOPOLE-EVRY (France), INRIA (France), CIRAD (France), EDF (France), Hewlett Packard (HP) and Fundación Andes.
OUTREACH AND DISSEMINATION ACTIVITIES
An important part of CMM's projection to society (outreach) is carried out by the projects and activities of our Education Area.
The researchers that work in this area participate in activities designed to disseminate mathematics, organized by the Ministry of Education, Universidad de Chile and Explora Program (CONICYT). At the same time, courses for highschool teachers and summer workshops are organized. These activities are complemented by a monthly education seminar, which was initiated in 2002 and has become a national forum in which the participants discuss the results of specific projects and policies on science education. Scientists from all fields, educators and ministerial authorities regularly participate in our seminars. CMM currently has a great deal of influence in Ministry of Education policies, and several of our researchers hold important positions and serve on key commissions that are involved with Chile's on-going educational reform.
IMPA.Instituto Nacional de Matematica Pura e Aplicada- www.impa.br
was the first research unit to be established by the Brazilian National Research Council (CNPq), presently the Brazilian Council for the Development of Science and Technology, just one year after CNPq itself was founded in 1951, becoming the foremost agency to promote and support research in Brazil. IMPA has since maintained a national profile, aimed at promoting high level scientific research in Mathematics and its applications, training new researchers, promoting the diffusion of mathematical culture and knowledge at a frontier line, and developing projects for improvement of mathematical teaching at all levels. These closely linked activities favor the advancement of mathematical knowledge, basic to the development of the sciences and of technology as a whole, which is itself essential to the economic and social progress of the Nation. IMPA initiated its activities in the premises of the Brazilian Physics Research Center (CBPF), at Praia Vermelha, Rio de Janeiro. Aside from L´elio Gama, the director, the research staff included Leopoldo Nachbin and Maur´1cio Peixoto, a small but illustrious group. Its academic prestige and influence became more visible with the advent of the Brazilian Mathematical Colloquia, the first one held in 1957. These meetings have since taken place every two years, and have grown from 50 participants initially to over 1,200 participants today. In that same year, IMPA was moved to Rua SÜao Clemente 265 in Botafogo, where it was going to remain for ten years, and Elon Lima and Paulo Ribenboim became members of the research staff. Former IMPA location in Botafogo The Institute, though still not offering a formal graduate program at the time, was already focused on training researchers and on encouraging the establishment of research groups in universities across Brazil. Scientific exchange with other countries began to be encouraged as well. From the outset, the library housed a very good collection of books and journals, and it is presently considered of the highest international standard and a national as well as a Latin American reference. To structure somewhat more its activities in forming new researchers, Masters and Doctoral programs in Mathematics were started in 1962, through an agreement with the Federal University of Rio de Janeiro (UFRJ), which officially awarded the degrees. Up to that time, financial resources were rather limited and the Institute had a small number of researchers. This greatly changed in 1967, when a global and much more substantial grant was offered by the National Bank for Economic Development (BNDES). In 1967 IMPA moved to Rua Lu´1s de CamÜoes 53, remaining in this historical building in downtown Rio de Janeiro until 1981. That building is now home to the H´elio Oiticica Cultural Center. Previous IMPA location in downtown Shortly before, in 1996, Lindolpho de Carvalho Dias had become director of the Institute, a position which he held until 1969, and then again from 1971 to 1979, and from 1980 to 1980. Elon Lages Lima was the director on various occasions: from 1969 to 1971, from 1979 to 1980, and from 1989 to 1993. Since then, I have had the honour and the fortune of directing this Institution that is a jewel of Brazilian and International Sciences. With the support first of BNDES and later of the Financial Agency for Studies and Projects (FINEP), besides CNPq itself, IMPA began to enlarge its faculty in 1968, by recalling Brazilian mathematicians working or studying in distinguished institutions abroad. In 1970 it established regular Masters and Doctoral, concurrent with the extended growth in its research and researcher-training activities This notable upgrading had the mark of a continuous high level research production at home. Without diminishing the importance of the initial role played by its founders, this new and fundamental phase corresponds to the vision and the work of a new generation of mathematicians. In fact, the institutional changes that took place in CNPq in the 1970 s yields the consolidation of such a qualitative jump in IMPA s activities, by enabling the hiring of a more sizable permanent and full time research staff. Up until then, its researchers had either been on fellowships or had held positions in other Brazilian or foreign institutions. The new scenario led to a great expansion and diversification of research work, as well as the training of excellent young researchers at international level. Not only research, but the Masters and Doctoral programs became part of the regular activities, and IMPA became the first Mathematics center to hold, as of 1971, a mandate from the Federal Board of Education enabling it to grant graduate degrees. It has been awarded the highest performance rates ever since by the Committee for the Advancement of University Academic Staff (CAPES). The worldwide distinction that IMPA has been given stems from the quality of its scientific work and from the role it has played in the training of new researchers: more than 250 doctorate degrees and 450 master degrees up to the present time. As of 1970, new research areas were established, such as Algebraic Geometry, Differential Geometry, Probability and Statistics, Operations Research and Mathematical Economics. Prior to this time, activities had been basically concentrated in the fields of Functional Analysis, Dynamical Systems, and Differential Topology. Later on, the fields of Partial Differential Equations, Fluid Dynamics, and Computer Graphics would become consolidated as well. IMPA present location at Jardim BotÆanico A fundamental factor in the consolidation of IMPA was the construction of its own headquarters in Horto Florestal, Jardim BotÆanico, inaugurated in July 1981, at which time an International Symposium on Dynamical Systems was held, which was attended by mathematicians from various other fields as well. The expansion of faculty staff continued throughout the nineties bringing the number of researchers up to 32, all of them holding doctorate degrees. The number of areas in more applied Mathematics grew in this period and now includes Computer Graphics, Fluid Dynamics, Mathematical Economics, Optimization. Two laboratories are now in operation, one in Computer Graphics and another in Fluid Dynamics. There are also computer facilities for researchers, visitors, and students. More than ever, IMPA is producing high level research and is training gifted young mathematicians. It has at present 31 permanent members and 5 longterm young associate fellows. As mentioned above, research work currently takes place in the fields of Algebra and Algebraic Geometry, Partial Differential Equations, Computer Graphics, Fluid Dynamics, Holomorphic Dynamics and Foliations, Mathematical Economics, Differential Geometry, Optimization, Probability, Dynamical Systems and Ergodic Theory. Students in the doctorate program come from all over Latin America and some from Europe, Asia, and Africa. Furthermore, IMPA has been distinguished as a Post-Doctoral Center of Excellence on an international level by the Third World Academy of Sciences (TWAS). It is the permanent headquarters of the Brazilian Mathematical Society, founded in 1969, and was the headquarters of the International Mathematical Union in the period 1990 1998. From the start, research has been associated to the upgrading of new researchers and has focused on supporting national universities, and later other Latin American institutions, in an effort to help these centers develop similar high level activities of their own. Aside from training programs forming new researchers, incentives for bringing visiting researchers, including those from abroad, have been of prime importance, as well as the organization of scientific conferences, and of the Brazilian Mathematics Colloquium every second year, combined with the regular running of the long term Post-Doctoral program and the Summer Graduate and Summer Post- Doctoral programs. The Post-Doctoral program includes long-term activities (ranging from six months to one year), and shortterm activities (one to three months), the latter generally held during the Summer. Various advanced research activities are offered at this time. Every year, an average of 80 mathematicians come to IMPA for post-doctoral training. Much joint research work has been accomplished in co-authorship by members of geographically-distant universities, thanks to contacts made during Summer programs. In addition, some 100 undergraduate and graduate students from universities in just about every state in the federation attend Mathematics courses in the Graduate Summer program offered by the Institute. For several years now IMPA has offered retraining courses for high school teachers. This activity has grown in importance and is now being incorporated into the regular program. For an even longer period, IMPA has given ample support to the Brazilian Mathematical Society, in particular to its Mathematical Olympics Program, on a nationwide level as well as in terms of Brazil s participation in international contests. Another main activity that has flourished at IMPA, besides research activities and human resources training, has been the publication of educational materials. Various series of publications are utilized by universities as reference material for graduate and undergraduate courses. This is especially true of the Projeto Euclides collection and the Matem´atica Universit´aria collection. The existence of a Brazilian mathematical literature is not only an important teaching asset, but also serves as a powerful incentive for young people to develop their research skills. IMPA has also produced, in collaboration with the Vitae Foundation, a collection of books especially designed for high school teachers of Mathematics, in conjunction with a retraining program. As a consequence of such successful and comprehensive set of activities, IMPA is now very visible and praised both in Brazil and abroad. Its faculty members have earned numerous national and international prizes, such as the Moinho Santista Prize, the National Prize for Science and Technology Alvaro Alberto, the Bernardo Houssay Interamerican Prize for Science, the Third World Academy of Sciences Prize, the Mexican Prize for Science and Technology, the An´1sio Teixeira and Jabuti Prizes. Inumerous distictions have been awarded to them: 16 are members of the Brazilian Academy of Sciences, 11 received the National Order of Scientific Merit and 8 are members of the Third World Academy of Sciences. There are also members of the Latin America, United States and French Academies of Sciences. Many of them hold a Doctor s Honorary Degree form Universities in Brazil, Chile, Cuba, England and Peru. Many of them hold research fellowships from CNPq and FAPERJ, and are involved in long-term research projects sponsored by various research agencies as the ones just cited and FINEP. All this lead to the present visibility of IMPA as the most prestigious mathematical centre in Latin America at the level of the best of institutions in the world, and extremely stimmulating research atmosphere where talents developed themselves without frontiers. In 1994 and 2001, Evaluation Committees from the Ministry of Science and Technology defined IMPA as a model of what a national research institute on basic science should be and all the necessary support should be available to it to keep its excellency .
Institut National de la Recherche en Informatique et en Automatique (INRIA) www.inria.fr
L'INRIA, institut national de recherche en informatique et en automatique placé sous la double tutelle des ministères de la recherche et de l'industrie, a pour vocation d'entreprendre des recherches fondamentales et appliquées dans les domaines des sciences et technologies de l'information et de la communication (STIC). L'institut assure également un fort transfert technologique en accordant une grande attention à la formation par la recherche, à la diffusion de l'information scientifique et technique, à la valorisation, à l'expertise et à la participation à des programmes internationaux. Jouant un rôle fédérateur au sein de la communauté scientifique de son domaine et au contact des acteurs industriels, l'INRIA est un acteur majeur dans le développement des STIC en France.
Conseil Nationale de Recherches Scientifiques et Téchniques (CONICET) www.conicet.gov.ar
El Consejo Nacional de Investigaciones Científicas y Técnicas es el principal organismo dedicado a la promoción de la ciencia y la tecnología en la Argentina. Su actividad se desarrolla en cuatro grandes áreas: Agrarias, Ingeniería y de materiales; Biológicas y de la Salud; Exactas y Naturales; Sociales y Humanidades. Objetivos:

Fomentar y subvencionar la investigación científica y tecnológica, y las actividades de apoyo que apunten al avance científico y tecnológico en el país, al desarrollo de la economía nacional y al mejoramiento de la calidad de vida, considerando los lineamientos establecidos por el Gobierno Nacional.
Fomentar el intercambio y la cooperación científico-tecnológica dentro del país y con el extranjero.
Otorgar subsidios a proyectos de investigación.
Otorgar pasantías y becas para la capacitación y perfeccionamiento de egresados universitarios, o para la realización de investigaciones científicas en el país y en el extranjero.
Organizar y subvencionar institutos, laboratorios y centros de investigación, que funcionen en universidades y en instituciones oficiales o privadas, o bajo la dependencia directa del CONICET.
Administrar las Carreras del Investigador Científico y del Personal de Apoyo a la Investigación y al Desarrollo.
Instituir premios, créditos y otras acciones de apoyo a la investigación científica. 8. Brindar asesoramiento a entidades públicas y privadas en el ámbito de su competencia.
Posted by Alejandro Jofre

22.03.2007