| | | |
| --- | --- | --- |
| | School on Information and Randomness | |
| | December 13-17, 2004 | |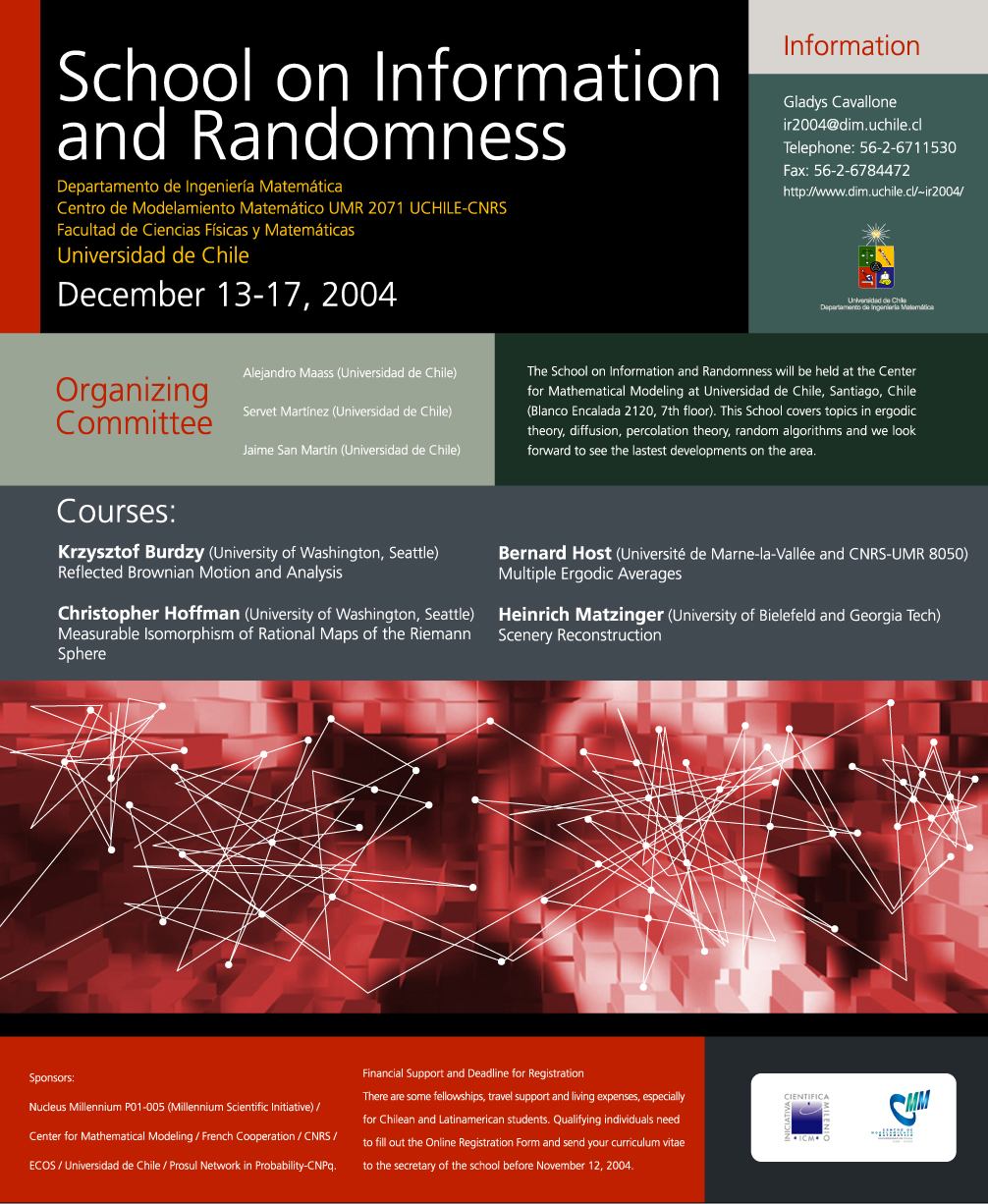 email: ir2004@dim.uchile.cl
Departamento de Ingeniería Matemática
Centro de Modelamiento Matemático, Universidad de Chile
UMR 2071 UCHILE-CNRS
Organizing Committee
Alejandro Maass (Universidad de Chile)

Servet Martínez (Universidad de Chile)

Jaime San Martín (Universidad de Chile)
The School on Information and Randomness will be held at the Center for Mathematical Modeling at Universidad de Chile, Santiago, Chile (Blanco Encalada 2120, 7th floor). This School covers topics in ergodic theory, diffusion, percolation theory, random algorithms and we look forward to see the lastest developments on the area.

Courses
Lecturers
Krzysztof Burdzy (University of Washington, Seattle)
Reflected Brownian Motion and Analysis

Christopher Hoffman (University of Washington, Seattle)
Measurable Isomorphism of Rational Maps of the Riemann Sphere

Bernard Host (Université de Marne-la-Vallée and CNRS-UMR 8050)
Convergence of Multiple Ergodic Averages

Heinrich Matzinger (University of Bielefeld and Georgia Tech)
Scenery Reconstruction
Conferences
Lecturers
Michael Boyle (University of Maryland)
Almost Isomorphism for Countable State Markov Shifts

Xavier Bressaud (Université de la Méditerranée)
Standard Filtrations. Explicit Constructions in a Simple Case

Jean-René Chazottes (Ecole Polytechnique, Palaiseau)
Devroye Inequality for Dynamical Systems with some Hyperbolicity and Statistical Applications

Jean Pierre Conze (Université de Rennes 1)
Limit Theorems for Sequences of Transformations, the Case of Piecewise Expanding Maps of the Interval

Angela Desai (University of Maryland)
Subsystem Entropies for Zd Sofic Shifts

Fabien Durand (Université de Picardie)
Dynamical Proof(s) of the Theorem of Cobham and Expected Generalizations to Dynamical Systems

Andrew Dykstra ((University of Maryland)
Good almost Conjugacy for G Shifts of Finite Type

Albert M. Fisher (Universidade de São Paulo)
Unique Ergodicity for Nonstationary Adic Transformations

Ricardo Fraiman (Universidad de San Andrés, Argentina)
Measuring Lengths using Random Samples

Jean Marc Gambaudo (Université de Bourgogne - CMM U. Chile)
From Billards to Tilings

Nancy L. Garcia (Universidade de Campinas)
Spatial Birth and Death Processes as Solutions of Stochastic Equations

Ricardo Gómez (Universidad Nacional Autónoma de Mexico)
Positive K-Theory for Finitary Isomorphisms of Markov Chains

Milton D. Jara (IMPA)
Finite-Dimensional Approximation of the Diffusion Coefficient in Simple Exclusion Process

Yves Lacroix (Institut des Sciences de l'Ingénieur de Toulon et du Var)
Possible Asymptotics for Return and Hitting Times in Ergodic Aperiodic Dynamical Systems

Claudio Landim (IMPA)
Macroscopic Current Fluctuations in Stochastic Lattices Gases

Renaud Leplaideur (Université de Brest)
Some Facts about Maximizing Measures

Martin Loebl (Charles University, Prague)
Ground State Incongruence in 2D Spin Glasses Revisited

Alejandro Maass (Universidad de Chile)
From Entropy to Sequence Entropy Pairs: Factors and Disjointness

Serban Nacu (University of Stanford)
Probability with Ants

Karl Petersen (University of North Carolina)
Joint Action of Shift and Adic

Serguei Popov (Universidade de São Paulo)
Random Bulgarian Solitaire

Anthony Quas (University of Memphis)
Rates of Divergence of Ergodic Averages

Juan Rivera-Letelier (Universidad Católica del Norte)
Equality of Pressures for Rational Maps and the Collet-Eckmann Condition

Dominique Schneider (Université du Littoral)
Almost Periodic Random Functions and Applications

Víctor Sirvent (Universidad Simón Bolivar)
Hilbert's Space Filling Curves and Geodesic Laminations

Mario Wschebor (Universidad de la República, Montevideo)
Systems of Random Equations
Sponsors
Nucleus Millennium P01-005 (Millennium Scientific Initiative)
Center for Mathematical Modeling
French Cooperation
CNRS
ECOS
Universidad de Chile
Prosul Network in Probability-CNPq

Financial Support and Deadline for Registration
There are some fellowships, travel support and living expenses, especially for Chilean and Latinamerican students. Qualifying individuals need to fill out the Online Registration Form and send your curriculum vitae to the secretary of the school before November 12, 2004
Information
Gladys Cavallone
e-mail:ir2004@dim.uchile.cl
Departamento de Ingeniería Matemática
Universidad de Chile
Casilla 170, correo 3
Santiago, Chile
Telephone: 56-2-6711530, Fax: 56-2-6784472.